Click Here to Subscribe via iTunes
Click Here to Subscribe via RSS Feed (non-iTunes feed)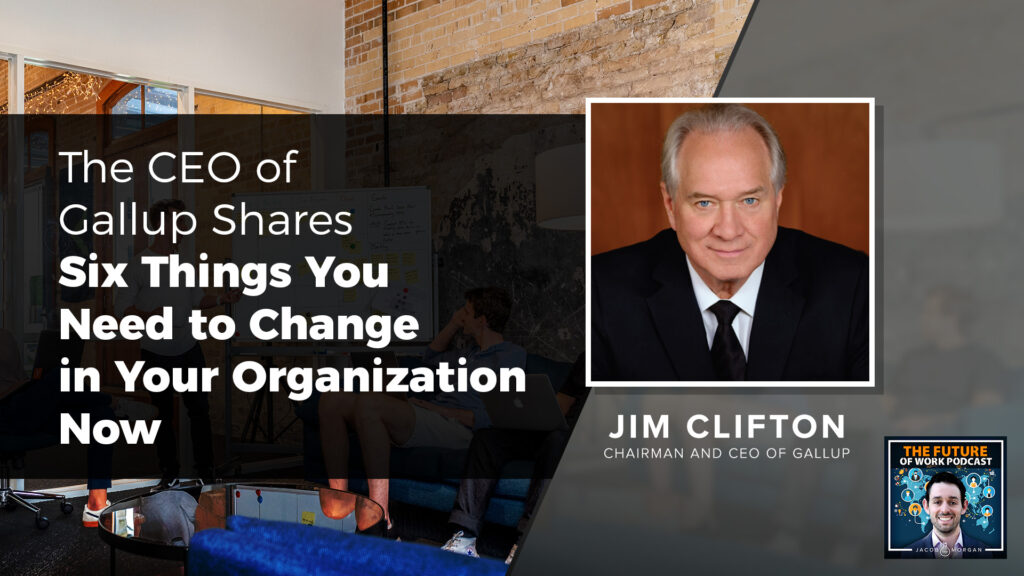 Jim Clifton is the Chairman and CEO of Gallup, an American analytics and advisory company founded in 1935. Jim has been the CEO since 1988 and under his leadership Gallup has expanded from a predominantly US based company to a worldwide organization with 30 offices in 20 countries. Gallup is made up of 2,000 professionals plus 35,000 contract workers across 160 countries.
Jim is also the co-author of a new book called It's The Manager, which is based on data Gallup has collected from their largest study on the future of work. The book examines 52 discoveries found from that study that point to why managers are the biggest factor in your organization's long-term success.
From the Gallup study Jim and co-author Jim Harter found six things that have been done in the past that most organizations still seem to hold on to. These six things need to be changed inside of organizations immediately in order for organizations to stay relevant and successful in the future of work.
One of these six changes Jim talks about is the shift from working solely for a paycheck to now the need for purpose and meaning at work. The things that employees want has changed over the last few decades. When Jim was starting out in the workplace in the 70s and 80s he says he wanted 40 hours a week and a fair paycheck out of work, that was it. His main dream and focus was on getting married, having kids, having a nice house, etc…
But now with the new generations coming into the workplace they don't have the same dreams and aspirations as Jim and his generation did.
Create Amazing Employee Experiences In Your Organization
Get started on our FREE training series!
Get Started →
"My generation got married like 15 years earlier on average than this generation. We had a bunch of kids and we also owned our homes. But all of that means that when I went to work, I really wasn't concerned with what the mission or purpose was of the organization. I mean this is a striking difference, but now I'm staying with millennials because they're 40% of the workplace when they come to work. They're saying, my life now merges with the workplace, not with my family, and I need to know that if I'm going to spend all this time here, how does that fulfill that need? Because my job is much more a part of my life than any generation ever."
Another change that is pointed out in the book is the need for managers to focus on employee development instead of employee satisfaction. Jim says, while there is nothing wrong in providing perks for employees, it should not be the reason employees come to work.
There's been a rising trend in organizations believing that they need to provide ping pong tables, latte machines, nap pods, free lunch, etc…but employees want to have a real purpose behind the work that they are doing. Employees want to know that the managers are going to work on their strengths and help define a development plan and help them grow inside of the organization.
As stated in the book, "When you have great managers who can maximize the potential of every team member, you have delivered on the new global will: a great job and a great life. That is the future of work".
What You Will Learn In This Episode:

What Jim's first job was and how it changed his life
The biggest changes Jim has seen in the workplace over the past few decades
The difference between a coach and a manager
Jim's view on perks in the workplace
Why organizations use workplace practices when there's no data to support that they work
A look at the research and findings for the book, It's the Manager
Links From The Episode:

Get my free training series to create powerful Employee Experiences in your organization.
Comments