What is the greatest leadership lesson you ever learned?
Over the last 15 years, I've had the privilege of speaking with more than 500 leaders on my podcast, The Future of Work With Jacob Morgan.
Each leader shared tips, advice, lessons they've learned, as well as an inside look at what it's like to lead their organization.
Each leader is unique, and I've learned something from each one.
This past year brought challenges for all of us around the world.
We had to learn how to adjust to a pandemic, address social injustices, lead virtually, and much more. Especially in 2020, my guests shared inspiration, motivation, and realistic advice for listeners.
From these interviews, I've pulled 15 leadership lessons that are crucial for your personal and professional success…especially if you aspire to lead others and lead others well.
You can grab the PDF here or by clicking the image below.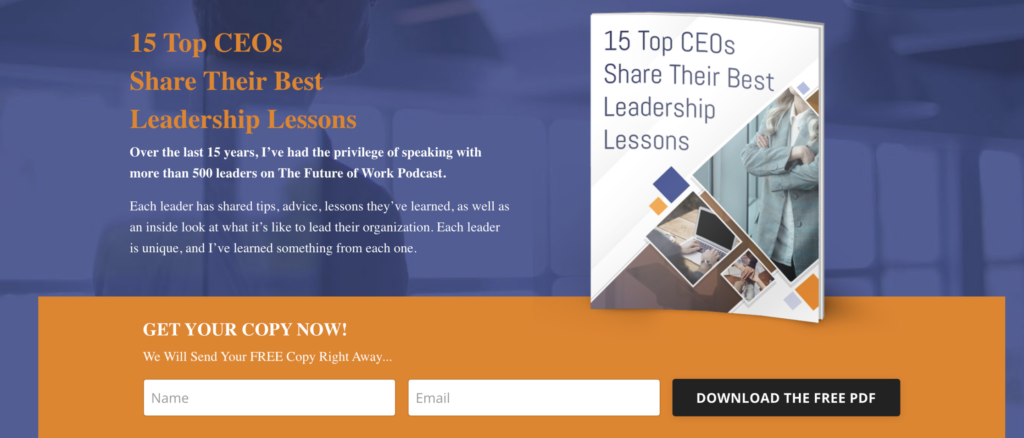 These aren't your typical leadership tips–these are tried and true practices that are more important in our uncertain future than ever before.
In the PDF you will learn the following:
How to lead by example from Arthur Blank, co-founder of The Home Depot.
The importance of creating your own luck from Shellye Archambeau, the former CEO of MetricStream.
What culture is and what it isn't from Marc Randolph, co-founder and first CEO of Netflix.
Why it doesn't have to be crazy at work from Jason Fried, co-founder and CEO of Basecamp.
What to do if you feel stuck at work from David Cote, former chairman and CEO of Honeywell.
How to lead with empathy and courage from Kate Johnson, president of Microsoft U.S.
How COVID-19 has changed leadership forever, from Tiger Tyagarajan, CEO of Genpact.
How leaders can serve their employees, from Carrie Birkhofer, President and CEO of Bay Federal Credit Union.
The importance of creating a mission that resonates with employees, from Steve Bilt, CEO of Smile Brands.
Why people are the solution and not the problem, from Hubert Joly, former CEO of Best Buy.
Why leaders need a short attention span, from Jim Heppelmann, CEO of PTC
How the best leadership lessons can come from those around you and not just MBA programs, from Chris McCann, CEO of 1-800-Flowers
Why everyone should think like an entrepreneur, from Jim McKelvey, co-founder of Square.
Why you should put people ahead of profits, from Pehr Gyllenhammar, former CEO of Volvo.
How to create and scale an amazing culture for a remote workforce, from Robert Glazer, CEO of Acceleration Partners.
You can download the PDF for free and get all of the 15 leadership lessons by clicking here.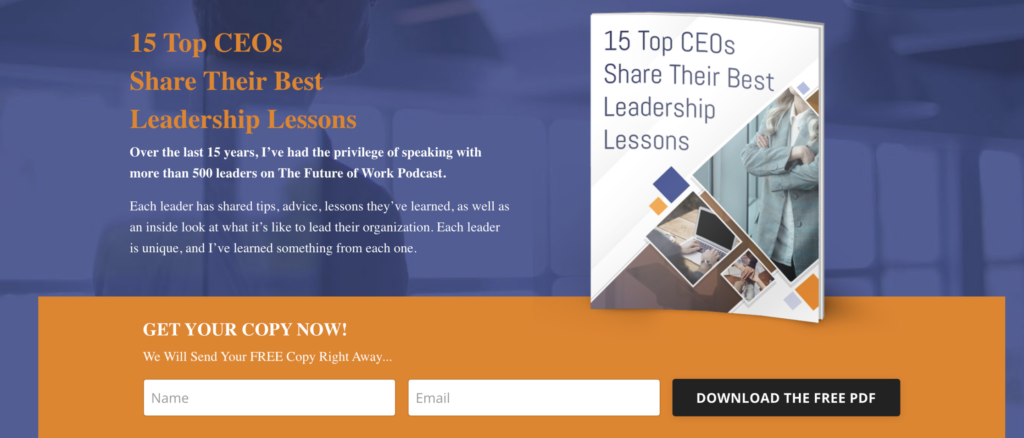 2020 brought leaders challenges they never could have predicted. But by following these tips from top CEOs and continually developing yourself as a leader, you can be prepared to lead and succeed in the future of work, no matter what that future brings.
I hope you find these 15 leadership tips valuable and can implement them in your life and career.
Comments