Click Here to Subscribe via iTunes
Click Here to Subscribe via RSS Feed (non-iTunes feed)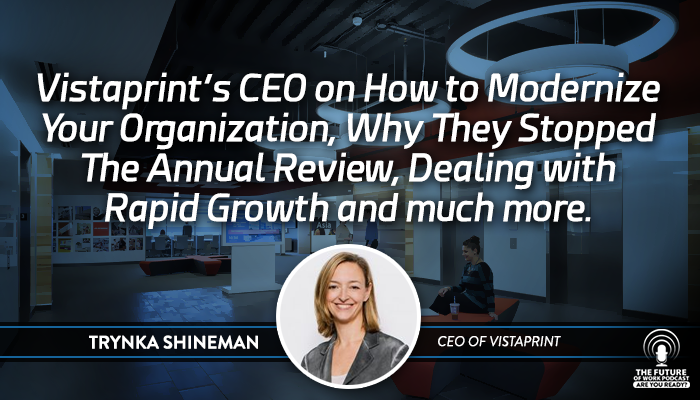 Trynka Shineman is the CEO of Vistaprint, a 20 year old global company that provides online custom printing, marketing materials, and a lot more. She brings more than 20 years of experience in market research and analysis, strategic planning, database marketing and e-commerce to her role. Prior to her current position, Shineman held a variety of roles at Vistaprint including president, chief marketing officer, and chief customer officer.
Before joining Vistaprint, Shineman was a director and senior manager for PreVision Marketing, an Inc. 500 and Software 500 innovator in direct marketing where she developed programs for several major accounts.
Vistaprint is an online supplier of printed and promotional materials as well as marketing services to micro businesses and consumers. With 7,000 employees, their focus is on helping business owners market themselves. They focus on small businesses – with less than 10 employees. Working to help with the small businesses' branding – from outfitting a store, advertising in the market and of course, business cards.
What is like to work at Vistaprint?
The main office is located in Boston and is orientated towards teams. When one walks in they will see white boards with what people are working on. They will see that change is a common factor.
One thing that Vistaprint does that is not common is something called a Vista Break. Every 5 years, every employee gets a month-long sabbatical. The expectation is that the employee is unplugged during that period. It is the ability to have 4 weeks of uninterrupted time. It recharges people.
Shineman shared the 3 pillars of the company which are:
1. How are we working? – placing more emphasis on teams rather than the individual
They use a Kanban board. It is a work and workflow visualization tool that enables you to optimize the flow of your work – it is one way to visualize the work. It assists with defining the outcome for the team.
Shineman also talked about Agile for HR – moving from being reactive to more proactive and building experiences that make an impact on the organization.
2. The employee experience- how do people get feedback? Setting expectations that they aspire to as an organization
A main focus is co-creation – working with others. Whether it is others within the organization or even with customers.
3. The role of the leader. How does it need to evolve?
What are the key qualities and skills in a leader? To provide clarity and right competence and right level of autonomy. How to create a clear goal? What is the role of a manager? Removing impediments, being authentic and open, servant leadership, leader as a coach, a helper or mentor.
What You Will Learn In This Episode:
● What it is like to work at Vistaprint
● Why they don't do annual performance reviews and what they do instead
● How Vistaprint views Employee Experience
● What a Kanban board is and why is it helpful
● How to use Agile in HR
Links from the episode:
Want To Learn More About Transforming Organizations?
The Transformation Of Weight Watchers With Their CHRO

How To Build A Cutting Edge Company Using The Hearts, Minds, Passions And Dedication Of The Millennial Generation

Comments