Being an entrepreneur is hard enough. But adding kids to the mix, especially kids who are at home during a pandemic, takes the challenges to another level.
We balance three thriving businesses with two active little kids at home. From our experiences and struggles, we've found five things that help us balance running a business and being parents:
Get childcare if you can afford it. Childcare, such as a nanny, daycare, or preschool, is definitely an investment. But spending that money on our kids gives us the ability to completely focus on our work instead of managing our kids' schedules. Consider the cost of not investing in childcare—the strain on your mental health and decreased quality of work adds up. When we pick our kids up from childcare, we can separate work and totally focus on them, which makes everyone happier.
Take turns. You both don't have to be in parent mode all the time. When you are exercising, your partner can watch the kids. Then switch places so the other person can exercise. You can also work in batches and have one person work for a few hours while your partner watches the kids and then switch. Be sure to physically separate yourself so you can avoid distractions and have the time and space to run your business effectively.
Take care of yourself. If you are stressed out or burnt out, you can't effectively take care of your kids or run your business. Do what you need to do to practice self-care, such as exercising, eating healthy, getting enough sleep, or spending time on your hobbies. When you take care of yourself, you can then show up and give 100% of yourself to your kids and business.
Ensure the division of labor is equal. You and your partner should be in a true partnership instead of one person shouldering all the work. Balance the many chores and responsibilities that come with having kids at home. Communication is key. Be honest with your spouse and discuss regularly what you both need to be successful and how you can fairly balance the workload.
Get creative. Part of the beauty of being an entrepreneur is that you aren't locked into a normal 8-5 schedule. Don't be afraid to take time off to be with your family and make it up later. Bring your kids into your hobbies and find creative ways to spend time as a family.
Life as an entrepreneur with kids can get messy. Embrace the imperfections and know that finding balance during this stage of life is part of the fun and excitement. By following these tips, you can make the most of being a parent and entrepreneur and love all aspects of your life.
Blake and I made a video about this which you can see below. If you want more content like this then make sure to subscribe to the Be Your Own Boss Podcast Youtube Channel where Blake and I teach you how you can be your own boss.
We frequently get asked things like: What do we use for courses and email marketing? What platform do we use to find people to join our team? What tools do we use for project and task management? Where do we host and publish podcasts and how do we transcribe them? And More. Well, we just put together the Entrepreneurs' Online Business Toolkit PDF which will give you a complete breakdown of the tools we sue to run our 7-figure businesses and how we use them. Click here to grab a copy, it will be an invaluable resource in your entrepreneurial journey!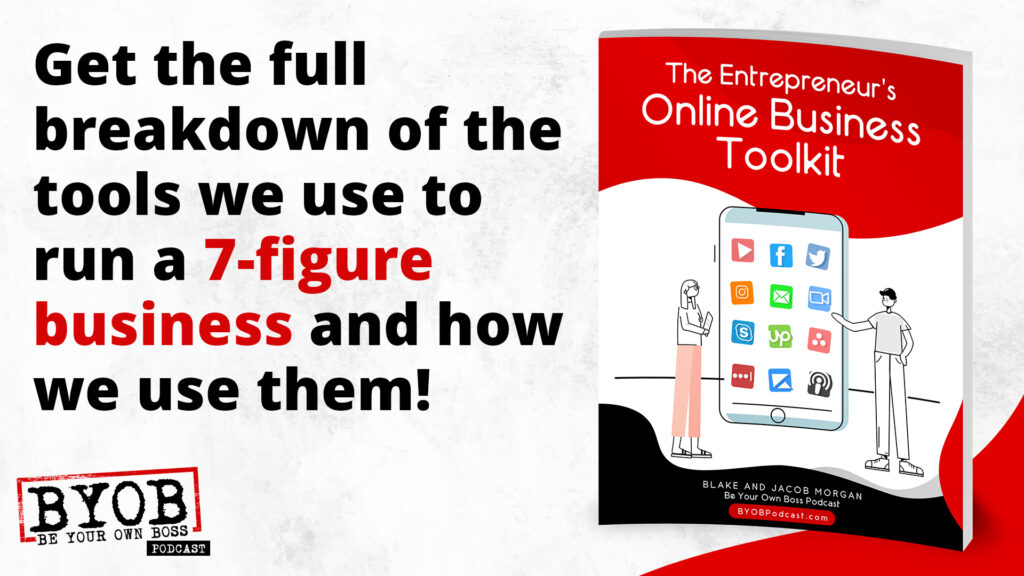 _______________________________________________________________________________
If you enjoyed the article and want more content like this here's what you can do:
Subscribe to The BYOB Podcast Newsletter to get notified when a new episode comes out (once a week).
Subscribe to our Youtube channel where we talk about these things in much more detail including sharing our personal stories.
If you're interested in sponsoring or have suggestions for the show, you can send us an email at morgans@byobpodcast.com.
Comments