Will the leader of 2030 be that different than today and if so how? These were the two questions I wanted to answer in my new book, The Future Leader. I wrote the book before COVID-19 and now the insights and the research are especially more relevant since leaders are having to adapt and change quickly!
Unfortunately, there isn't much research or data on how to lead in a new and rapidly changing world so, I decided to do my own research.
For part 1 I interviewed over 140 CEOs around the world from companies like Audi, Koc Holdings, SAP, Oracle, MasterCard, Verizon, Unilever, Best Buy, KPMG, and many others. I asked all of these CEOs a series of 12 questions covering everything from skills and mindsets for future leaders to trends and challenges and even how a typical day for a leader will change. More of this will be shared in the future.
After compiling, categorizing, and tabulating all of this data I was able to determine the top skills and mindsets that the world's top CEO's believe are most important for leaders. The general consensus was that while some core aspects of leadership will remain the same, such as setting a vision and execution on strategy, leaders also require a new arsenal of skills and mindsets to guide themselves, their teams, and their organizations to success. Why do we need a new set of skills and mindsets? Because of the 6 trends you can see below (I wrote about all of these in more depth here).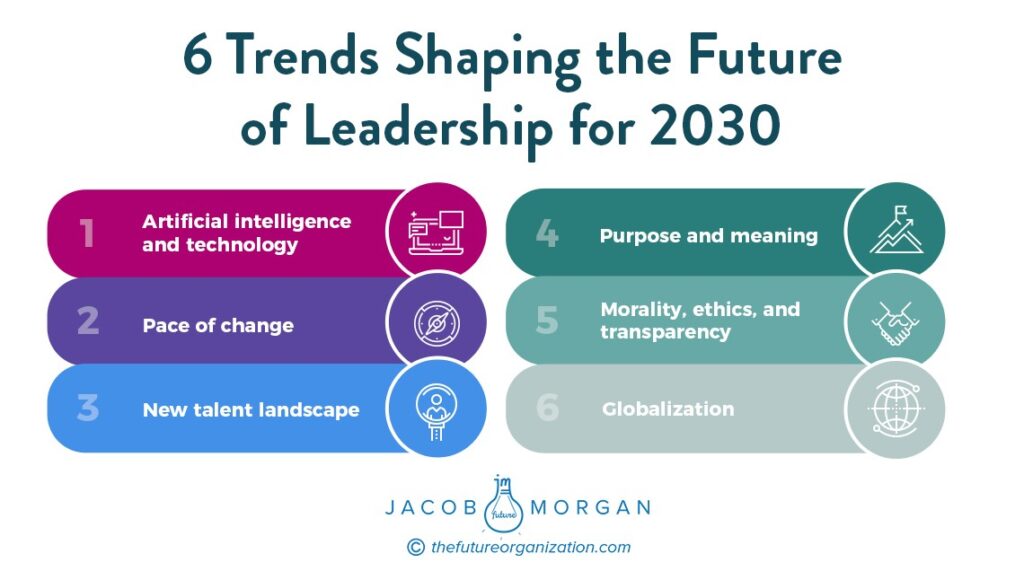 For part 2 of this research I partnered with LinkedIn to survey almost 14,000 employees around the world representing the U.S, UK, India, Brazil, China, Australia, UAE, Germany, Austria, and Switzerland. This gave us good global representation and allowed me to compare the insights across seniority levels.
I took all of the data from the 140+ CEOs around skills and mindsets and asked the almost 14,000 employees around the world how well their mid and senior leaders were practicing these skills and mindsets. The respondents were able to select from four options (a fifth option of "not sure" was included but I'm not including it here):
Not well at all
Somewhat well
Reasonably well
Very well
The skills and mindsets include things like: curiosity, having a growth mindset, thinking like a futurist, coaching and mentoring, emotional intelligence, thinking globally, and several others.
In the two charts below you can see the global breakdown of the responses which looks at the top two categories of "reasonably well" and "very well." The first chart looks specifically at mindsets (how leaders need to think) and the second chart looks at skills (things that leaders specifically need to know how to do).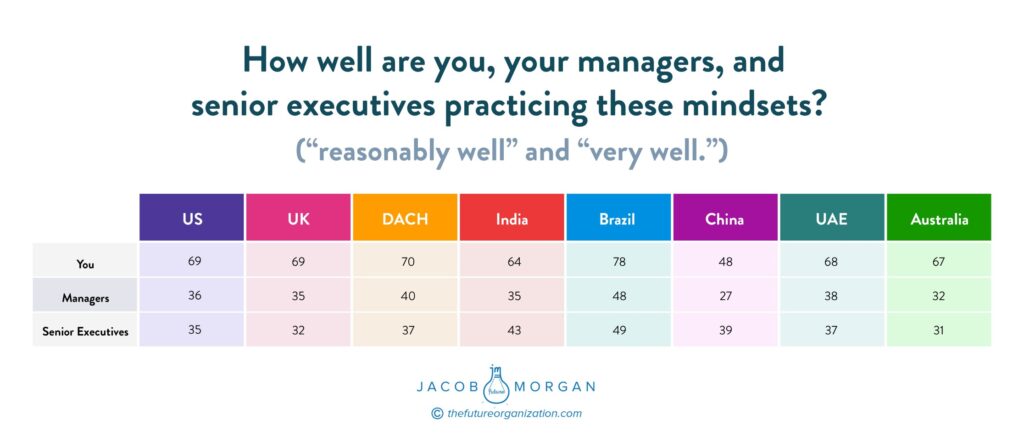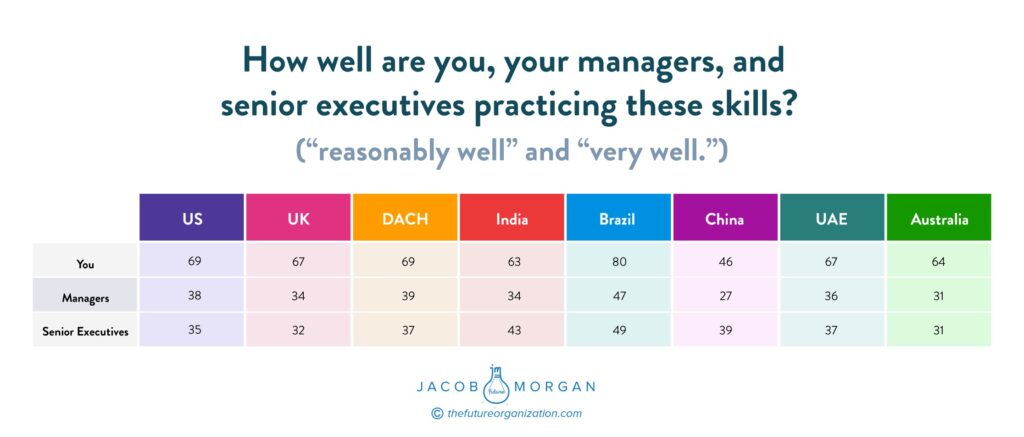 Mid-level leaders ("managers" in the chart)
Brazil surprisingly had the highest percentage of respondents say that their mid-level leaders are practicing these skills and mindsets "reasonably well" or "very well." DACH (Germany, Austria, and Switzerland) came in second place. Brazil also had the highest percentage of people who were confident in their own ability to practice these mindsets and skills.
Senior executives
Here too, Brazil had the highest percentage of respondents say that their senior leaders are practicing these skills and mindsets "reasonably well" or "very well." India scored in second.
Interestingly enough even though mid-level leaders in the U.S. scored in third place, senior executives in the U.S. were nowhere near the top of the pack. I was rather surprised by these findings since many tend to look to the U.S. as exemplars when it comes to evolving workplace practices and leadership styles.
I'd love to hear from all of you, does this research align with what you are seeing and experiencing in your own part of the world? Of course, we couldn't survey every country but we tried to get a good geographic representation.
140 of the world's top CEOs identified a specific set of 9 skills & mindsets that are crucial for leaders to master. Learn what they are and hear directly from these leaders by downloading the PDF below.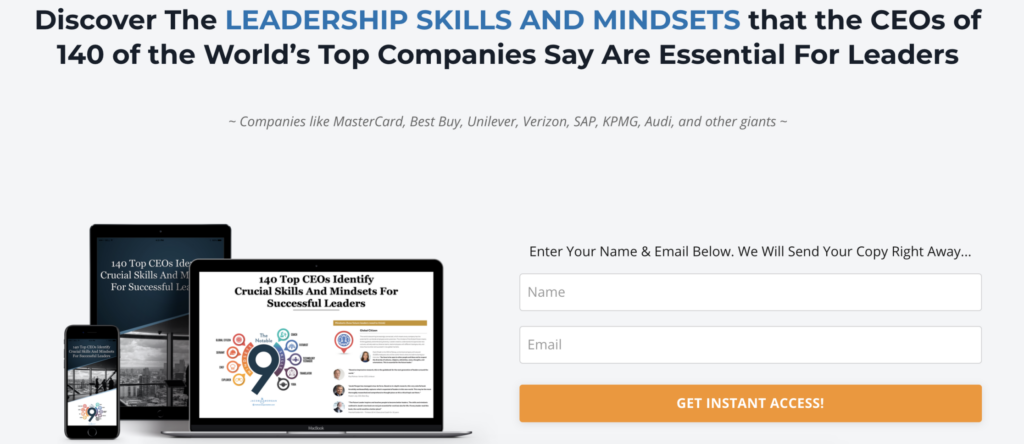 _________________________________________________________________________________________________________________
If you enjoyed the article and want more content like this here's what you can do:
1. Subscribe to The Future of Work Podcast where I interview business leaders around the world each week.
2. You can also Subscribe to my Youtube channel for more content on the Future of Work, Leadership, and Employee Experience.
3. Grab a copy of my brand new book, The Future Leader.
Comments