Click Here to Subscribe via iTunes
Click Here to Subscribe via RSS Feed (non-iTunes feed)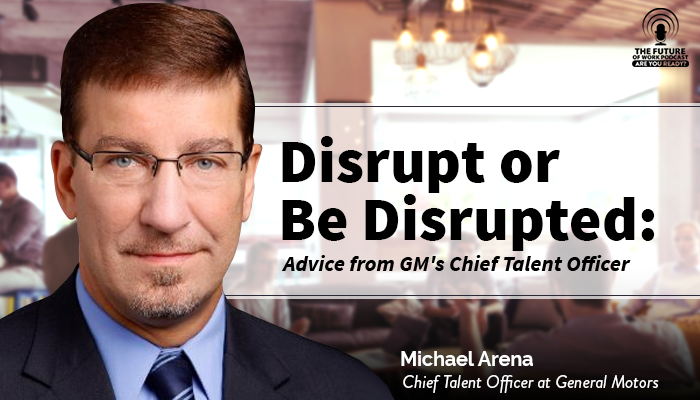 Michael Arena, PhD is the Chief Talent Officer at General Motors. He is responsible for enterprise talent management, strategic workforce analytics, talent acquisition, executive development and global learning. GM employs 200,000 people across the globe. Major markets include North America, China and South America.
Prior to joining GM, Dr. Arena served as Senior Vice President of Leadership Development for Bank of America's Global Consumer and Small Business Banking group and spent two years as a visiting scientist within the Massachusetts Institute of Technology Media Lab, where he studied the intersection of human behavior, innovation and social connectivity. He is also currently a Lecturer at the University of Pennsylvania. He is the author of a new book coming out in June, 2018 called Adaptive Space: How GM and other Companies are Disrupting Themselves and Transforming into Agile Organizations.
One area that General Motors has looked at is Social Network Analysis, also called ONA – Organizational Network Analysis. This is what you see in your social network – it is a map or grid. Every person is a statistic. Are they someone who is a central connector? Or are they a broker who bridges two groups to drive them. So, GM might start with a survey that asks people about who they interact with each day. Through those surveys they map the connections together. Then they leverage that information and tap it into it.
One example of this is when GM looked at team results. In one area they found that the cohesion scores of a team were correlated to their response rates to requests -the higher the cohesion, the quicker the response rates. Teams that were spread out had lower response rates and lower quality responses. With that in mind, they relocated people so they were 'looking at each other', then created 'huddles' – where people could share regularly. It improved productivity by 25% in some cases.
There are multiple areas that are being looked at in GM. One initiative that General Motors is currently focused on is called GM 2020 – it is a bottom up emergent movement. The focus is on how they can reinvent the 'future of work' – today. What are some of the key imperatives needed to make it happen? They look specifically at four areas:
1. Talent gap
2. Connected Simplicity
3. Sustainability and Purpose
4. Innovation
They also have conducted two day 'blitzes' called Co-Labs where particular challenges are worked on – focusing on leadership and innovation. At the end of the session the groups make a pitch. They have found that this is a good way to develop – engage people in real life business challenges.
What you will learn in this episode:
• What does a Chief Talent Officer do
• How GM is looking to be a disrupter in the future
• Why an intentional workspace is critical
• The culture of GM
• The role of a 'futurist' at GM
• What GM is doing on the People Analytics front
Link from the episode:
Want To Hear More Podcasts On Talent?
Behind The Scenes Of Talent Acquisition With Sjoerd Gehring

TRethinking Talent Retention With Michael Dawisha

Comments