Click Here to Subscribe via iTunes
Click Here to Subscribe via RSS Feed (non-iTunes feed)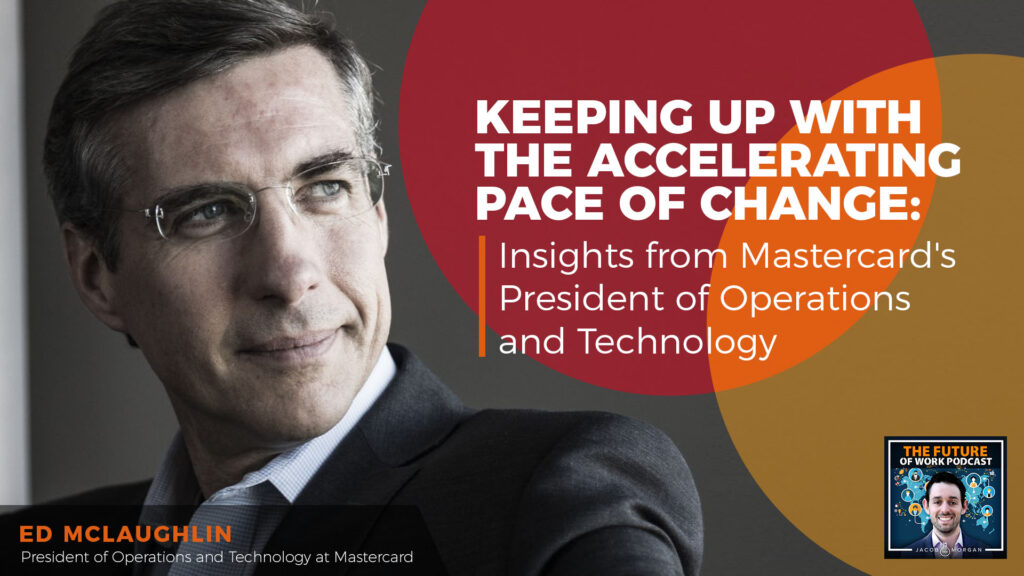 Ed McLaughlin is the President of Operations and Technology at Mastercard, where he has worked for the past 14 years. In his current role Ed oversees all of Mastercard's technology functions including the global network, processing platforms, information security, and technology operations.
As Ed points out, working in technology doesn't mean he is sitting in a cubicle coding all day. Work in technology is very much a people centered role. "I think technology has always been people at its heart. What really matters is who are the people, and how well we use the stuff, how good we're at it, and how much we understand what all of that's for. Technology is always for a purpose, and it's people that give it that purpose. Yeah, I spend a lot of time. I still code every once in a while, but it's not the work of doing it, it's really working together to create the value that is. I think just about everything we do is either done through or with technology these days. It's just really how we make things, how humans work together."
When it comes to the doom and gloom talk about AI and automation, Ed says he is "profoundly optimistic" He believes that these advances in technology have the potential to free humans up to do the things they actually want to do. He says, "When I hear talk of a jobless future, I just think it's just a lack of imagination. I mean, when I think of all the things I wish we could be doing if we could have more resources freed up, my lists have lists."
Mastercard is actually harnessing AI inside of the organization in order to flag fraudulent activity for customers, to help employees collaborate effectively, and to make it possible for employees to continuously learn and grow.
Create Amazing Employee Experiences In Your Organization
Get started on our FREE training series!
Get Started →
One tool they use is called Safety Net, which monitors all transactions in real time and looks for fraudulent behaviors. It helps protect the company from the 200 fraud attempts that happen every minute, which would nearly impossible to do with just human employees.
Another program they have in place is called NuDetect, which can detect if someone is trying to sign into a customer account using a stolen identity. The AI looks at behaviors such as what height the phone is at when signing in, the way the person types, whether they are sitting or standing, etc….
With all of the new technological advances and the fast rate of change in today's world of work, how are companies supposed to keep up? Ed says it is important to stay constantly curious and don't get stuck doing things as they have always been done before just because change is hard.
"I do think, and this is hard, you need to have an enthusiasm for what's new, not to be fashionable, not for fashion's sake, but to always be questioning. I think it's a skeptical enthusiasm of, "If a new capability is there, does it allow me to do what I want to do better?" I think as long as you're centered on what you're trying to do, then all the new capabilities I find just profoundly exciting."
What You Will Learn In This Episode:

●How to create great digital experiences for employees
●Why Ed is optimistic about AI and automation
●A look at some cool AI programs Mastercard has created such as NuDetect and SafetyNet
●How Mastercard upskills and retrains their employees
●What the office space is like at Mastercard
●How they are keeping up with the pace of change
●How to balance information and data with privacy and security
Get my free training series to create powerful Employee Experiences in your organization.
Comments